Erotic Massage
English Information
Dear Guest
let us kidnap you into the world of the sensuous eroticism!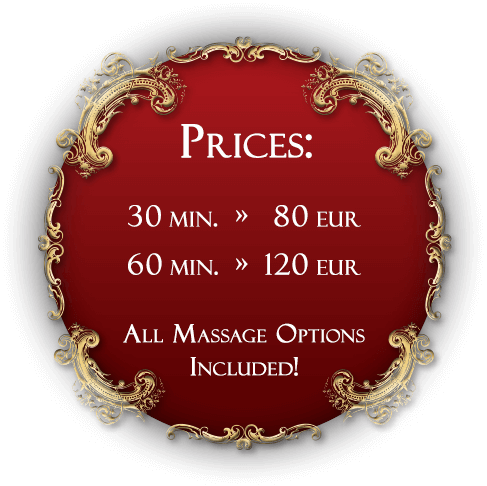 For a 4 hand massage with two women the prices double.
Talk with your masseuse about your wishes for your individual massage. You can combine elements from the following massage options:
Classical massage:
She'll help you to relax and take away your tenseness. Every muscle in your body is going to be limp in the end.
Tantra massage:
The masseuse will massage you with her naked body.
Mutual massage:
The masseuse massages you and you can massage the masseuse.
Spanish Massage:
Your very special body part will get a massage by the masseuse's breasts and this massage can be finished by you 'cuming' between the lady's breasts.
Greek Massage:
The masseuse will perform an intense massage on your buttocks and maybe she'll insert a finger and/or dildo into you. If she does it right, she'll take you heaven.
Double massage:
If you like you can get indulged by two masseuses, which is double the fun and pleasure for you. The synchronised massage movements let you dive deep into relaxation. (Note: For a 4 hand massage with two women the prices double.)
Dominant Massage:
Live our your fantasies and let the masseuse perform a soft-dominant massage. Don't be afraid! Tell us what you wish for. Maybe we can make your fantasies become reality.

A small list of optional possibilities:
Strap-on, Whips, Outfits like latex dresses or a nurse outfit, Stockings, Treatment with you on a gynecologist chair, Roleplays
More info about our Dominant Massage (in German only) »

All massages wth happy ending!
Combine the massage styles obove however you'd like to or let the masseuse decide what to perform on you. During every kind of massage the masseuse is naked without any extra costs. All massages include a handjob.

Note: Not every masseuse offers every service mentioned above!
General Information:
When you come to us you always have the possibility to take a shower before and after your personal massage without any additional costs for you.

During your stay you'll get one drink for free.

Ladies and couples are also very welcome.
Come around, visit us and enjoy your stay!